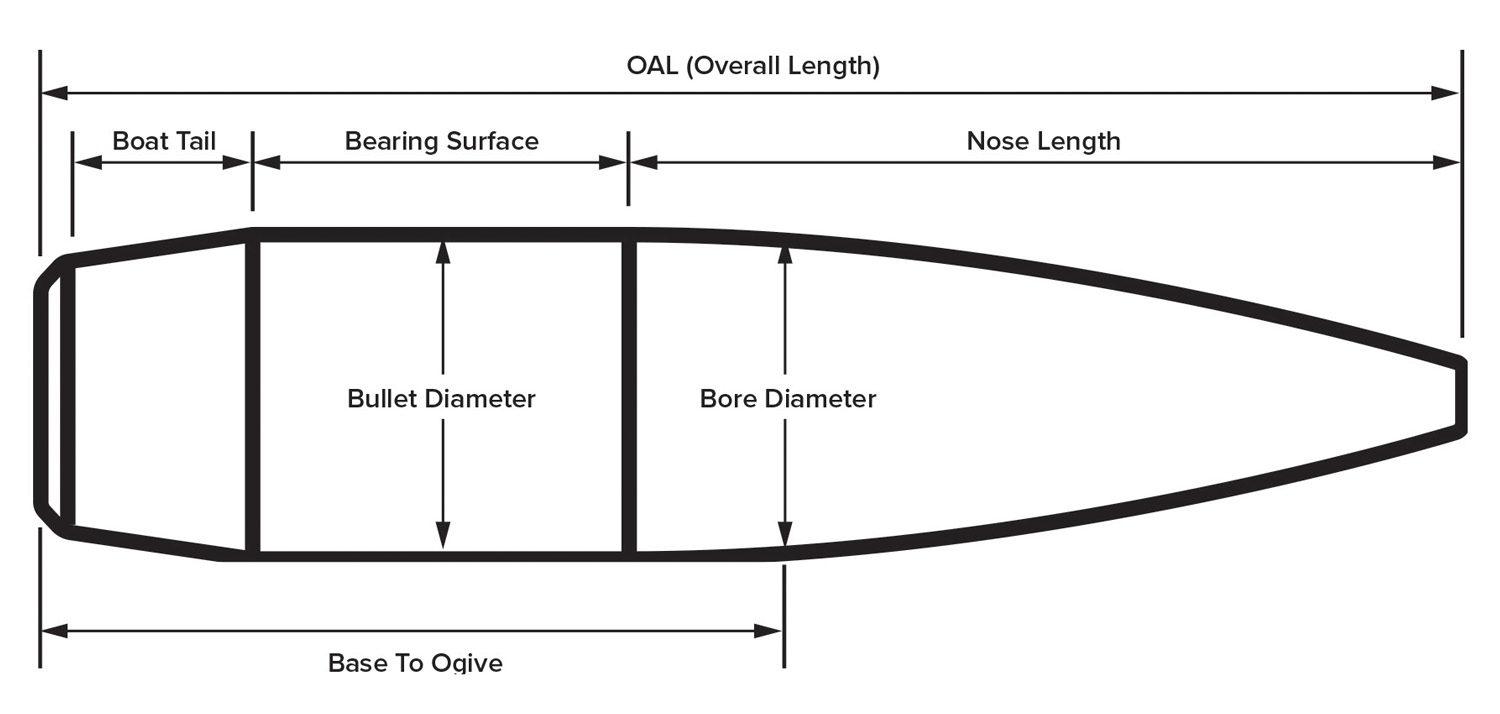 DESCRIPTION LEGEND
FB: Flat Base
High BC FB: High BC Flat Base
BR Column: Bench Rest Flat Base
BT: Boat Tail
Long Range BT/Juggernaut: Long Range Boat Tail
VLD: Very Low Drag
Hybrid: Combination Secant and Tangent Ogive
LR Hybrid: Long Range Hybrid
AR Hybrid/Classic Hunter: Short Nose Hybrid (for magazine feeding)
Elite Hunter: Long Nose Hunting Hybrid
OTM: Open Tip Match
BULLET DIMENSION REFERENCE
Cal (Dia): This is the bullet caliber and (diameter in inches).
OAL: Overall Length.
Boat Tail: Length of the boat tail, excluding the heal.
Nose Length: From the front of bearing surface to the bullet tip.
Base To Ogive: From the bullet base to the point on the nose which contacts the riflings at the bore diameter.
Bearing Surface: Length of the full diameter portion of the bullet.
PERFORMANCE METRICS
SD: Sectional Density, an indicator of penetration.
G1 BC: The Ballistic Coefficient referenced to the G1 standard. Use this BC for flat base bullets.
G7 BC: The Ballistic Coefficient referenced to the G7 standard. Use this BC for boat tail bullets.
G7 Form Factor: The drag of the bullet compared to the G7 standard. Lower form factor means lower drag. Form factors close to 1.0 are average. Bullets with form factors below 1.0 will have high BCs for their weight, and will perform better at long range.
Minimum Twist: Minimum twist will enable you to shoot good groups but you may experience a compromise in ballistic coefficient (BC) performance. Use the Berger Twist Rate Calculator to determine the twist rate that works best for your bullet selection at bergerbullets.com/twist-rate-calculator/
ALL DIMENSIONS ARE FOR REFERENCE ONLY.
THEY WILL VARY FROM LOT TO LOT, BUT WILL BE CONSISTENT WITHIN A LOT.
| Part # | Bullet Description | Cal (Dia) | OAL | Boat Tail | Nose Length | Base to Ogive | Bearing Surface | Sectional Density | G1 BC | G7 BC | G7 Form Factor | Minimum Twist |
| --- | --- | --- | --- | --- | --- | --- | --- | --- | --- | --- | --- | --- |
| 17308 | 17 Cal 25 gr FB Varmint | 17 Cal (0.172) | 0.565 | FB | 0.306 | 0.318 | 0.259 | 0.121 | 0.152 | NA | NA | 1:10" |
| 20303 | 20 Cal 35 gr FB Varmint | 20 Cal (0.204) | 0.596 | FB | 0.381 | 0.272 | 0.215 | 0.120 | 0.179 | NA | NA | 1:14" |
| 20304 | 20 Cal 40 gr BT Varmint | 20 Cal (0.204) | 0.680 | 0.110 | 0.411 | 0.337 | 0.159 | 0.137 | 0.227 | 0.116 | 1.184 | 1:12" |
| 22303 | 22 Cal 40 gr FB Varmint | 22 Cal (0.224) | 0.609 | FB | 0.415 | 0.260 | 0.194 | 0.114 | 0.151 | NA | NA | 1:15" |
| 22408 | 22 Cal 52 gr FB Target | 22 Cal (0.224) | 0.714 | FB | 0.476 | 0.323 | 0.238 | 0.148 | 0.235 | NA | NA | 1:14" |
| 22309 | 22 Cal 52 gr FB Varmint | 22 Cal (0.224) | 0.717 | FB | 0.436 | 0.367 | 0.281 | 0.148 | 0.201 | NA | NA | 1:14" |
| 22410 | 22 Cal 55 gr FB Target | 22 Cal (0.224) | 0.749 | FB | 0.509 | 0.328 | 0.240 | 0.157 | 0.254 | NA | NA | 1:14" |
| 22311 | 22 Cal 55 gr FB Varmint | 22 Cal (0.224) | 0.753 | FB | 0.457 | 0.377 | 0.296 | 0.157 | 0.209 | NA | NA | 1:14" |
| 22312 | 22 Cal 60 gr FB Varmint | 22 Cal (0.224) | 0.810 | FB | 0.496 | 0.393 | 0.314 | 0.171 | 0.271 | NA | NA | 1:12" |
| 22418 | 22 Cal 70 gr VLD Target | 22 Cal (0.224) | 0.961 | 0.192 | 0.487 | 0.505 | 0.282 | 0.199 | 0.374 | 0.191 | 1.042 | 1:9" |
| 22420 | 22 Cal 73 gr BT Target | 22 Cal (0.224) | 0.963 | 0.140 | 0.535 | 0.524 | 0.288 | 0.208 | 0.348 | 0.178 | 1.168 | 1:9" |
| 22421 | 22 Cal 75 gr VLD Target | 22 Cal (0.224) | 1.051 | 0.191 | 0.569 | 0.525 | 0.291 | 0.214 | 0.421 | 0.216 | 0.989 | 1:8" |
| 22101 | 22 Cal 77 gr OTM Tactical | 22 Cal (0.224) | 1.015 | 0.133 | 0.513 | 0.587 | 0.370 | 0.219 | 0.374 | 0.192 | 1.142 | 1:8" |
| 22422 | 22 Cal 80 gr VLD Target | 22 Cal (0.224) | 1.106 | 0.191 | 0.576 | 0.570 | 0.339 | 0.228 | 0.455 | 0.233 | 0.976 | 1:8" |
| 22427 | 22 Cal 80.5 gr FULLBORE Target | 22 Cal (0.224) | 1.091 | 0.185 | 0.589 | 0.589 | 0.317 | 0.229 | 0.441 | 0.226 | 1.014 | 1:8" |
| 22485 | 22 Cal 85.5 gr LR Hybrid Target | 22 Cal (0.224) | 1.167 | 0.166 | 0.623 | 0.585 | 0.362 | 0.243 | 0.524 | 0.268 | 0.907 | 1:8" |
| 22423 | 22 Cal 90 gr VLD Target | 22 Cal (0.224) | 1.254 | 0.196 | 0.692 | 0.622 | 0.366 | 0.256 | 0.534 | 0.274 | 0.937 | 1:7" |
| 24407 | 6 mm BR COLUMN Target | 6 mm (0.243) | 0.810 | FB | 0.538 | 0.328 | 0.272 | 0.155 | 0.231 | NA | NA | 1:14" |
| 24408 | 6 mm 65 gr BT Target | 6 mm (0.243) | 0.833 | 0.115 | 0.516 | 0.382 | 0.202 | 0.157 | 0.281 | 0.144 | 1.092 | 1:13" |
| 24411 | 6 mm 68 gr FB Target | 6 mm (0.243) | 0.833 | FB | 0.531 | 0.402 | 0.302 | 0.165 | 0.255 | NA | NA | 1:13" |
| 24321 | 6 mm 80 gr FB Varmint | 6 mm (0.243) | 0.913 | FB | 0.541 | 0.466 | 0.372 | 0.194 | 0.300 | NA | NA | 1:12" |
| 24524 | 6 mm 87 gr VLD Hunting | 6 mm (0.243) | 1.042 | 0.156 | 0.605 | 0.488 | 0.281 | 0.210 | 0.427 | 0.219 | 0.961 | 1:10" |
| 24323 | 6 mm 88 gr High BC FB Varmint | 6 mm (0.243) | 1.059 | FB | 0.672 | 0.453 | 0.387 | 0.213 | 0.380 | NA | NA | 1:10" |
| 24425 | 6 mm 90 gr BT Target | 6 mm (0.243) | 1.050 | 0.112 | 0.644 | 0.521 | 0.294 | 0.218 | 0.409 | 0.210 | 1.037 | 1:10" |
| 24570 | 6 mm 95 gr Classic Hunter | 6 mm (0.243) | 1.069 | 0.165 | 0.544 | 0.587 | 0.360 | 0.230 | 0.434 | 0.223 | 1.032 | 1:10" |
| 24527 | 6 mm 95 gr VLD Hunting | 6 mm (0.243) | 1.130 | 0.210 | 0.672 | 0.536 | 0.248 | 0.230 | 0.467 | 0.239 | 0.962 | 1:9" |
| 24427 | 6 mm 95 gr VLD Target | 6 mm (0.243) | 1.130 | 0.207 | 0.664 | 0.538 | 0.259 | 0.230 | 0.467 | 0.240 | 0.958 | 1:9" |
| 24433 | 6 mm 105 gr Hybrid Target | 6 mm (0.243) | 1.256 | 0.213 | 0.701 | 0.624 | 0.342 | 0.254 | 0.536 | 0.275 | 0.925 | 1:8" |
| 24428 | 6 mm 105 gr BT Target | 6 mm (0.243) | 1.189 | 0.216 | 0.631 | 0.673 | 0.342 | 0.254 | 0.494 | 0.253 | 1.004 | 1:8" |
| 24528 | 6 mm 105 gr VLD Hunting | 6 mm (0.243) | 1.223 | 0.190 | 0.698 | 0.598 | 0.335 | 0.254 | 0.545 | 0.278 | 0.915 | 1:8" |
| 24429 | 6 mm 105 gr VLD Target | 6 mm (0.243) | 1.222 | 0.216 | 0.680 | 0.619 | 0.326 | 0.254 | 0.517 | 0.265 | 0.960 | 1:8" |
| 24431 | 6 mm 108 gr BT Target | 6 mm (0.243) | 1.217 | 0.217 | 0.656 | 0.678 | 0.344 | 0.261 | 0.522 | 0.268 | 0.977 | 1:8" |
| 24556 | 6 mm 108 gr Elite Hunter | 6 mm (0.243) | 1.260 | 0.185 | 0.651 | 0.649 | 0.408 | 0.261 | 0.559 | 0.287 | 0.912 | 1:8" |
| 24485 | 6 mm 109 gr LR Hybrid Target | 6 mm (0.243) | 1.277 | 0.168 | 0.655 | 0.653 | 0.431 | 0.264 | 0.568 | 0.292 | 0.906 | 1:8" |
| 24530 | 6 mm 115 gr VLD Hunting | 6 mm (0.243) | 1.348 | 0.196 | 0.750 | 0.695 | 0.402 | 0.278 | 0.568 | 0.291 | 0.956 | 1:7" |
| 24430 | 6 mm 115 gr VLD Target | 6 mm (0.243) | 1.332 | 0.216 | 0.739 | 0.678 | 0.377 | 0.278 | 0.563 | 0.289 | 0.963 | 1:7" |
| 25513 | 25 Cal 115 gr VLD Hunting | 25 Cal (0.257) | 1.188 | 0.150 | 0.681 | 0.574 | 0.357 | 0.249 | 0.483 | 0.247 | 1.006 | 1:10" |
| 25586 | 25 Cal 133 gr Elite Hunter | 25 Cal (0.257) | 1.407 | 0.214 | 0.723 | 0.730 | 0.447 | 0.288 | 0.613 | 0.315 | 0.914 | 1:8" |
| 25485 | 25 Cal 135 gr LR Hybrid Target | 25 Cal (0.257) | 1.416 | 0.216 | 0.729 | 0.735 | 0.450 | 0.292 | 0.650 | 0.334 | 0.876 | 1:8" |
| 26402 | 6.5 mm 120 gr BT Target | 6.5 mm (0.264) | 1.219 | 0.138 | 0.688 | 0.661 | 0.393 | 0.246 | 0.468 | 0.240 | 1.025 | 1:9" |
| 26195 | 6.5 mm 130 gr AR Hybrid OTM Tactical | 6.5 mm (0.264) | 1.295 | 0.230 | 0.709 | 0.665 | 0.356 | 0.266 | 0.560 | 0.287 | 0.928 | 1:10" |
| 26503 | 6.5 mm 130 gr VLD Hunting | 6.5 mm (0.264) | 1.324 | 0.223 | 0.723 | 0.653 | 0.378 | 0.266 | 0.562 | 0.288 | 0.925 | 1:8" |
| 26403 | 6.5 mm 130 gr VLD Target | 6.5 mm (0.264) | 1.310 | 0.223 | 0.735 | 0.719 | 0.445 | 0.266 | 0.562 | 0.288 | 0.926 | 1:8" |
| 26571 | 6.5 mm 135 gr Classic Hunter | 6.5 mm (0.264) | 1.325 | 0.190 | 0.655 | 0.719 | 0.458 | 0.277 | 0.584 | 0.303 | 0.913 | 1:8" |
| 26552 | 6.5 mm 140 gr Elite Hunter | 6.5 mm (0.264) | 1.403 | 0.190 | 0.744 | 0.714 | 0.451 | 0.287 | 0.606 | 0.310 | 0.926 | 1:8" |
| 26414 | 6.5 mm 140 gr Hybrid Target | 6.5 mm (0.264) | 1.407 | 0.224 | 0.768 | 0.704 | 0.415 | 0.287 | 0.607 | 0.311 | 0.923 | 1:8" |
| 26409 | 6.5 mm 140 gr LR BT Target | 6.5 mm (0.264) | 1.397 | 0.230 | 0.839 | 0.673 | 0.328 | 0.287 | 0.593 | 0.304 | 0.944 | 1:8" |
| 26504 | 6.5 mm 140 gr VLD Hunting | 6.5 mm (0.264) | 1.390 | 0.224 | 0.731 | 0.717 | 0.435 | 0.287 | 0.600 | 0.307 | 0.935 | 1:8" |
| 26401 | 6.5 mm 140 gr VLD Target | 6.5 mm (0.264) | 1.387 | 0.232 | 0.731 | 0.718 | 0.424 | 0.287 | 0.593 | 0.304 | 0.945 | 1:8" |
| 26485 | 6.5 mm 144 gr LR Hybrid Target | 6.5 mm (0.264) | 1.413 | 0.188 | 0.742 | 0.724 | 0.469 | 0.295 | 0.655 | 0.336 | 0.879 | 1:8" |
| 26486 | 6.5 mm 153.5 gr LR Hybrid Target | 6.5 mm (0.264) | 1.514 | 0.186 | 0.748 | 0.826 | 0.560 | 0.315 | 0.694 | 0.356 | 0.884 | 1:8" |
| 26550 | 6.5 mm 156 gr EOL Elite Hunter | 6.5 mm (0.264) | 1.512 | 0.189 | 0.765 | 0.809 | 0.545 | 0.32 | 0.679 | 0.347 | 0.921 | 1:8" |
| 27570 | 270 Cal 130 gr Classic Hunter | 270 Cal (0.277) | 1.210 | 0.245 | 0.686 | 0.579 | 0.279 | 0.242 | 0.490 | 0.251 | 0.964 | 1:10" |
| 27501 | 270 Cal 130 gr VLD Hunting | 270 Cal (0.277) | 1.173 | 0.243 | 0.618 | 0.647 | 0.312 | 0.242 | 0.462 | 0.236 | 1.025 | 1:11" |
| 27571 | 270 Cal 140 gr Classic Hunter | 270 Cal (0.277) | 1.274 | 0.203 | 0.645 | 0.665 | 0.410 | 0.261 | 0.528 | 0.271 | 0.962 | 1:10" |
| 27502 | 270 Cal 140 gr VLD Hunting | 270 Cal (0.277) | 1.253 | 0.235 | 0.617 | 0.721 | 0.401 | 0.261 | 0.504 | 0.258 | 1.010 | 1:11" |
| 27503 | 270 Cal 150 gr VLD Hunting | 270 Cal (0.277) | 1.294 | 0.230 | 0.625 | 0.754 | 0.439 | 0.279 | 0.518 | 0.265 | 1.054 | 1:10" |
| 27575 | 270 Cal 170 gr EOL Elite Hunter | 270 Cal (0.277) | 1.490 | 0.254 | 0.829 | 0.760 | 0.407 | 0.317 | 0.662 | 0.339 | 0.935 | 1:9" |
| 28503 | 7 mm 140 gr VLD Hunting | 7 mm (0.284) | 1.267 | 0.243 | 0.700 | 0.608 | 0.324 | 0.248 | 0.500 | 0.256 | 0.969 | 1:11" |
| 28571 | 7 mm 150 gr Classic Hunter | 7 mm (0.284) | 1.253 | 0.206 | 0.576 | 0.712 | 0.452 | 0.266 | 0.505 | 0.258 | 1.030 | 1:11" |
| 28570 | 7 mm 168 gr Classic Hunter | 7 mm (0.284) | 1.372 | 0.253 | 0.636 | 0.809 | 0.483 | 0.298 | 0.566 | 0.290 | 1.026 | 1:10" |
| 28501 | 7 mm 168 gr VLD Hunting | 7 mm (0.284) | 1.433 | 0.245 | 0.771 | 0.705 | 0.417 | 0.298 | 0.618 | 0.316 | 0.940 | 1:10" |
| 28401 | 7 mm 168 gr VLD Target | 7 mm (0.284) | 1.431 | 0.245 | 0.768 | 0.707 | 0.418 | 0.298 | 0.628 | 0.322 | 0.926 | 1:10" |
| 28554 | 7 mm 175 gr Elite Hunter | 7 mm (0.284) | 1.502 | 0.207 | 0.801 | 0.762 | 0.478 | 0.310 | 0.656 | 0.336 | 0.922 | 1:10" |
| 28407 | 7 mm 180 gr Hybrid Target | 7 mm (0.284) | 1.527 | 0.245 | 0.852 | 0.768 | 0.430 | 0.319 | 0.68 | 0.349 | 0.915 | 1:9" |
| 28502 | 7 mm 180 gr VLD Hunting | 7 mm (0.284) | 1.506 | 0.243 | 0.772 | 0.779 | 0.491 | 0.319 | 0.673 | 0.345 | 0.925 | 1:9" |
| 28405 | 7 mm 180 gr VLD Target | 7 mm (0.284) | 1.520 | 0.243 | 0.777 | 0.789 | 0.500 | 0.319 | 0.683 | 0.350 | 0.911 | 1:9" |
| 28408 | 7 mm 184 gr F-Open Hybrid Target | 7 mm (0.284) | 1.575 | 0.225 | 0.808 | 0.820 | 0.542 | 0.326 | 0.695 | 0.356 | 0.937 | 1:9" |
| 28487 | 7 mm 190 gr LR Hybrid Target | 7 mm (0.284) | 1.601 | 0.207 | 0.823 | 0.831 | 0.554 | 0.337 | 0.751 | 0.384 | 0.878 | 1:9" |
| 28550 | 7 mm 195 gr EOL Elite Hunter | 7 mm (0.284) | 1.648 | 0.250 | 0.874 | 0.886 | 0.524 | 0.345 | 0.755 | 0.387 | 0.892 | 1:9" |
| 30421 | 30 Cal 115 gr FB Target | 30 Cal (0.308) | 0.940 | FB | 0.699 | 0.340 | 0.241 | 0.173 | 0.289 | NA | NA | 1:19" |
| 30407 | 30 Cal 150 gr FB Target | 30 Cal (0.308) | 1.155 | FB | 0.762 | 0.532 | 0.393 | 0.226 | 0.393 | NA | NA | 1:15" |
| 30426 | 30 Cal 155 gr Hybrid Target | 30 Cal (0.308) | 1.271 | 0.221 | 0.798 | 0.545 | 0.252 | 0.233 | 0.478 | 0.245 | 0.953 | 1:12" |
| 30508 | 30 Cal 155 gr VLD Hunting | 30 Cal (0.308) | 1.223 | 0.177 | 0.765 | 0.517 | 0.281 | 0.233 | 0.464 | 0.238 | 0.981 | 1:14" |
| 30416 | 30 Cal 155.5 gr FULLBORE Target | 30 Cal (0.308) | 1.226 | 0.181 | 0.816 | 0.538 | 0.229 | 0.234 | 0.473 | 0.242 | 0.968 | 1:13" |
| 30570 | 30 Cal 168 gr Classic Hunter | 30 Cal (0.308) | 1.228 | 0.218 | 0.707 | 0.598 | 0.303 | 0.253 | 0.489 | 0.251 | 1.010 | 1:13" |
| 30425 | 30 Cal 168 gr Hybrid Target | 30 Cal (0.308) | 1.287 | 0.223 | 0.795 | 0.563 | 0.269 | 0.253 | 0.515 | 0.264 | 0.960 | 1:12" |
| 30510 | 30 Cal 168 gr VLD Hunting | 30 Cal (0.308) | 1.261 | 0.181 | 0.750 | 0.563 | 0.330 | 0.253 | 0.498 | 0.255 | 0.992 | 1:13" |
| 30410 | 30 Cal 168 gr VLD Target | 30 Cal (0.308) | 1.251 | 0.171 | 0.750 | 0.556 | 0.330 | 0.253 | 0.507 | 0.260 | 0.973 | 1:13" |
| 30105 | 30 Cal 175 gr OTM Tactical | 30 Cal (0.308) | 1.261 | 0.215 | 0.755 | 0.627 | 0.292 | 0.264 | 0.512 | 0.263 | 1.002 | 1:13" |
| 30420 | 30 Cal 175 gr LR BT Target | 30 Cal (0.308) | 1.314 | 0.186 | 0.794 | 0.659 | 0.334 | 0.264 | 0.512 | 0.262 | 1.005 | 1:13" |
| 30512 | 30 Cal 175 gr VLD Hunting | 30 Cal (0.308) | 1.328 | 0.186 | 0.750 | 0.631 | 0.392 | 0.264 | 0.518 | 0.265 | 0.994 | 1:13" |
| 30412 | 30 Cal 175 gr VLD Target | 30 Cal (0.308) | 1.342 | 0.183 | 0.745 | 0.647 | 0.414 | 0.264 | 0.512 | 0.262 | 1.006 | 1:13" |
| 30554 | 30 Cal 180 gr Elite Hunter | 30 Cal (0.308) | 1.375 | 0.202 | 0.782 | 0.641 | 0.373 | 0.271 | 0.576 | 0.295 | 0.919 | 1:12" |
| 30571 | 30 Cal 185 gr Classic Hunter | 30 Cal (0.308) | 1.314 | 0.242 | 0.692 | 0.693 | 0.380 | 0.279 | 0.533 | 0.273 | 1.020 | 1:12" |
| 30424 | 30 Cal 185 gr Hybrid Target | 30 Cal (0.308) | 1.418 | 0.241 | 0.831 | 0.657 | 0.346 | 0.279 | 0.576 | 0.295 | 0.944 | 1:11" |
| 30107 | 30 Cal 185 gr Juggernaut OTM Tactical | 30 Cal (0.308) | 1.355 | 0.223 | 0.789 | 0.693 | 0.343 | 0.279 | 0.552 | 0.283 | 0.985 | 1:12" |
| 30418 | 30 Cal 185 gr Juggernaut Target | 30 Cal (0.308) | 1.344 | 0.221 | 0.787 | 0.691 | 0.336 | 0.279 | 0.555 | 0.284 | 0.980 | 1:12" |
| 30513 | 30 Cal 185 gr VLD Hunting | 30 Cal (0.308) | 1.366 | 0.214 | 0.759 | 0.661 | 0.393 | 0.279 | 0.558 | 0.286 | 0.976 | 1:12" |
| 30413 | 30 Cal 185 gr VLD Target | 30 Cal (0.308) | 1.383 | 0.219 | 0.757 | 0.674 | 0.407 | 0.279 | 0.543 | 0.278 | 1.002 | 1:12" |
| 30514 | 30 Cal 190 gr VLD Hunting | 30 Cal (0.308) | 1.371 | 0.215 | 0.756 | 0.668 | 0.400 | 0.286 | 0.566 | 0.290 | 0.987 | 1:12" |
| 30427 | 30 Cal 200 gr Hybrid Target | 30 Cal (0.308) | 1.489 | 0.243 | 0.836 | 0.726 | 0.410 | 0.301 | 0.616 | 0.316 | 0.954 | 1:11" |
| 30417 | 30 Cal 200.20x Hybrid Target | 30 Cal (0.308) | 1.508 | 0.227 | 0.848 | 0.706 | 0.413 | 0.301 | 0.640 | 0.328 | 0.918 | 1:11" |
| 30555 | 30 Cal 205 gr Elite Hunter | 30 Cal (0.308) | 1.487 | 0.230 | 0.742 | 0.788 | 0.493 | 0.309 | 0.631 | 0.324 | 0.954 | 1:11" |
| 30485 | 30 Cal 208 gr LR Hybrid Target | 30 Cal (0.308) | 1.575 | 0.217 | 0.742 | 0.788 | 0.490 | 0.313 | 0.689 | 0.354 | 0.884 | 1:10" |
| 30515 | 30 Cal 210 gr VLD Hunting | 30 Cal (0.308) | 1.470 | 0.209 | 0.751 | 0.770 | 0.510 | 0.316 | 0.625 | 0.320 | 0.988 | 1:11" |
| 30415 | 30 Cal 210 gr VLD Target | 30 Cal (0.308) | 1.460 | 0.207 | 0.738 | 0.784 | 0.529 | 0.316 | 0.621 | 0.318 | 0.994 | 1:11" |
| 30429 | 30 Cal 215 gr Hybrid Target | 30 Cal (0.308) | 1.598 | 0.263 | 0.872 | 0.799 | 0.463 | 0.324 | 0.691 | 0.354 | 0.915 | 1:10" |
| 30486 | 30 Cal 220 gr LR Hybrid Target | 30 Cal (0.308) | 1.597 | 0.213 | 0.838 | 0.817 | 0.516 | 0.331 | 0.717 | 0.369 | 0.897 | 1:10" |
| 30430 | 30 Cal 230 gr Hybrid Target | 30 Cal (0.308) | 1.668 | 0.280 | 0.859 | 0.875 | 0.529 | 0.346 | 0.717 | 0.368 | 0.941 | 1:10" |
| 30112 | 30 Cal 230 gr Hybrid OTM Tactical | 30 Cal (0.308) | 1.608 | 0.272 | 0.794 | 0.883 | 0.542 | 0.346 | 0.710 | 0.364 | 0.953 | 1:10" |
| 30560 | 30 Cal 245 gr EOL Elite Hunter | 30 Cal (0.308) | 1.775 | 0.227 | 0.894 | 0.942 | 0.633 | 0.369 | 0.807 | 0.413 | 0.893 | 1:9" |
| 30487 | 30 Cal 245 gr LR Hybrid Target | 30 Cal (0.308) | 1.775 | 0.227 | 0.894 | 0.942 | 0.633 | 0.369 | 0.846 | 0.433 | 0.893 | 1:9" |
| 33554 | 338 Cal 250 gr Elite Hunter | 338 Cal (0.338) | 1.627 | 0.326 | 0.960 | 0.757 | 0.341 | 0.313 | 0.685 | 0.351 | 0.891 | 1:12" |
| 33107 | 338 Cal 250 gr Hybrid OTM Tactical | 338 Cal (0.338) | 1.635 | 0.319 | 0.962 | 0.758 | 0.354 | 0.313 | 0.682 | 0.349 | 0.895 | 1:12" |
| 33556 | 338 Cal 300 gr Elite Hunter | 338 Cal (0.338) | 1.816 | 0.305 | 0.955 | 0.956 | 0.556 | 0.375 | 0.814 | 0.417 | 0.900 | 1:10" |
| 33109 | 338 Cal 300 gr Hybrid OTM Tactical | 338 Cal (0.338) | 1.819 | 0.311 | 0.955 | 0.945 | 0.515 | 0.375 | 0.822 | 0.421 | 0.891 | 1:10" |
| 37379 | 375 Cal 379 gr ELR Match Solid Bullets | 375 Cal (0.375) | 2.236 | 0.308 | 1.122 | 0.679 | 0.371 | 0.385 | 0.951 | 0.487 | 0.790 | 1:8″ |
| 37407 | 375 Cal 407 gr ELR Match Solid Bullets | 375 Cal (0.375) | 2.347 | 0.300 | 1.132 | 0.715 | 0.415 | 0.413 | 1.022 | 0.523 | 0.790 | 1:8″ |