The Berger Bullets 1st Edition Reloading Manual is now available!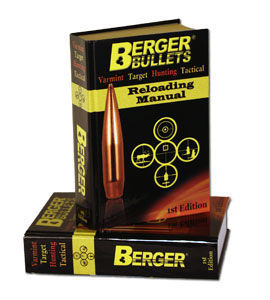 This manual contains data for over 70 of the most popular centerfire rifle cartridges used today.  Read HERE for a complete list of cartridges included in the manual.  The Berger Bullets Reloading Manual is available for purchase through your favorite Berger dealer.
We will continue to develop reloading data that was not included in the 1st Edition.  Listed below, you will find data for additional cartridges, along with new bullet offerings in the original cartridges.
Reference Articles and Information
Looking for reloading data that is not in our reloading manual or listed below? We can help you out! Get the latest load data by emailing us at support@capstonepg.com with the bullet and cartridge you are looking to load. You can also call us at 660-460-2802 or use the live chat function by clicking here.