The Southwest Nationals webpage has a new home. Desert Sharpshooters has developed a new website for their signature shooting event. Visit the new
http://www.southwestnationals.net/
for more information.
For privacy reasons YouTube needs your permission to be loaded. For more details, please see our
Privacy Policy
.
I Accept
Registration for the 2019 SWN will open at 6:00 am Arizona time on Sat, Sept 1, 2018.
Click HERE for the official program, and HERE to find out about how to register for the match.
Click here to view the 2019 Southwest Nationals Official Sponsors
The Southwest Long Range Nationals are held every February at the Ben Avery Shooting Facility just north of Phoenix, Arizona. Our team strives to create an event that sets the standard for other matches.
We welcome new alliances and appreciate our long standing partners, the Desert Sharpshooters Rifle Club and the Arizona Game and Fish Department; these groups working together result in a "must attend" event for long range shooters around the world.
Arizona Game and Fish has developed the range into a truly world-class facility, with 98 firing points, carefully maintained firing lines and additional wind flags. The Desert Sharpshooters hosts the event. The club is led by Mid Tompkins and includes dedicated volunteers, such as Michelle Gallagher, who work tirelessly to organize every detail and provide the shooters with every feature they would expect at such a large match. As the match sponsors, Berger will provide the "extras" – large hospitality tents, ice chests full of drinks on the firing line, upgraded flushable restroom facilities, a banquet on Saturday night and awards to the winners, including over $3,500 in cash prizes and over 30,000 bullets in awards.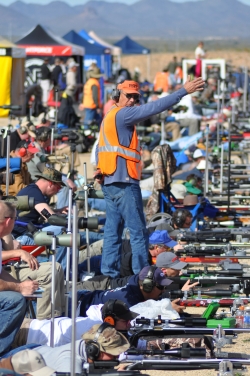 The week kicks off on Tuesday with a shooting clinic. The clinic blends classroom instruction (wind reading, ballistics, equipment and position tips, etc), with live fire exercises. This clinic is run by some of the most accomplished shooters in the world, and is designed to teach new and experienced shooters alike.
We realize that many people cannot take an entire week off of work to come shoot, so the Grand Aggregate runs from Friday through Sunday to include as many people as possible. Wednesday's midrange match is a stand-alone, giving shooters a chance to play with new techniques they learned in the clinic, or just brush up for the competition on Friday. We run team matches on Thursday and Saturday, with additional awards given for the combined Team Agg. The Grand Agg is comprised of a palma match and four 1000 yard matches.
Our sponsors are critical to the ongoing success of the match. We encourage our industry partners to participate, and are always looking for new opportunities to support the match. This participation allows companies and shooters to connect on a personal level, which benefits both shooters and sponsors. Shooters received over $120,000 worth of cash and prizes from our generous sponsors at the 2015 Southwest Nationals.
Of course, the most important part of the match is our shooters. Without you, there is no match. We have purposefully built this match around shooters' feedback to make it the best event possible. This match truly has something for everyone. Experienced shooters can compete shoulder to shoulder with some of the best in the world. We also encourage new shooters to participate. This is a great opportunity for new shooters to experience a big match and learn from those with more knowledge. Combined with a full schedule, great weather, big prizes and plenty of fun; it's an event not to be missed!
Please note that we will have a limit of 360 competitors. More details in the 2019 SWN Program. Sign up to reserve your spot today!
To find out more information about the match, the Phoenix area and our sponsors, click the tabs on the right hand side of this page.