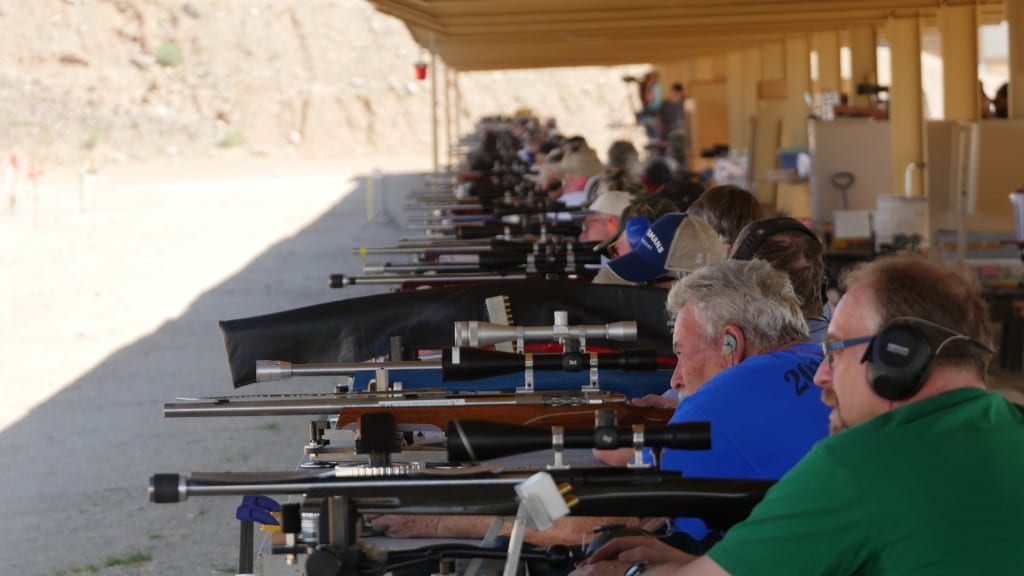 The Cactus Classic took place on March 19-20, 2016 at the Ben Avery Shooting Facility in Phoenix, AZ. This year's match had a great turnout with 138 total shooters, 3 of which were junior shooters.
The Cactus had a full 5 days of practice, the Monday through Friday before the match. During this week we got to see a lot of familiar faces from last year as well as many new faces. For the most part, the days were full of great weather with normal Ben Avery conditions, meaning a bit of wind here and there. Thursday and Friday both had good conditions in comparison and led into a very nice weekend.
On Friday night we held a banquet dinner for the shooters, which included an amazing prize table thanks to our very generous sponsors. We had over $75,000 in prizes donated this year by our sponsors, all of which went directly to the shooters.
In fact, we had so many prizes that not only did every shooter who attended the dinner get a prize, but we had enough prizes to have another raffle on Sunday at the awards ceremony. We also had 10 bonus matches and cash prizes for every junior shooter. We even had an award for the shooter that "missed the cut" and came in 21st in the 2-Gun Grand Agg.
Saturday morning kicked off great with three screamers in the first match. Gary Bristow shot a 0.066″ group, Kelly Ellis shot a 0.061″ group, and Greg King shot an amazing 0.058″ group. Kudos to all 3 for starting the weekend off right! Throughout the day we saw several zeros and some very competitive aggregates for both Light and Heavy Varmint. In the morning's 100 Yard Light Varmint Grand Agg Gary Bristow took the lead for the weekend with a very impressive 0.1644″ Grand Agg which included 3 screamers over the course of the 5 matches! In the afternoon Larry Baggett took the Heavy Varmint 100 Yard Grand Agg with a 0.1666″ Grand Agg that gave him a convincing lead.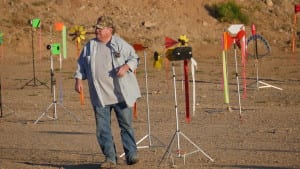 Sunday morning started with Heavy Varmint 200 Yards. Lou Murdica had a commanding lead with a 0.1675″ Grand Agg, which moved him up the Heavy Varmint rankings quite a bit, but not enough to take the Heavy Varmint Grand Agg. In the afternoon we continued with the Light Varmint 200 Yard matches, which Larry Costa took 1st in with a 0.1878″ Grand Agg.
Larry Costa took home the Light Varmint Grand Agg with a 0.1897″. Larry also went on to win the Heavy Varmint Grand Agg with a 0.2016″. Brandon McNairy took home the top junior prize with a 0.3567″ 2-Gun Grand Agg. Gene Bukys came in 3rd overall with a 0.2315″, Lester Bruno came in 2nd with a 0.2202″ and Larry Costa came in first with a convincing 0.1957″ 2-Gun Grand Aggregate, winning him the Cactus Classic Trophy.
We were pleased to see so many people out here this year for the Cactus Classic. We sincerely hope that anyone who was not able to make it out will join us for our next match in April and for the Bench Rest Nationals which will be held here at Ben Avery Shooting Facility in October later this year.
For details on these matches and about the Arizona Bench Rest Shooters, please visit our website at www.azbrs.com.
For the full results of the 2016 Cactus Classic click HERE and for photos of the match visit the Berger Bullets Flickr page.