Bryan Litz technical tools are some of the most innovative and well-known tools in the shooting industry. Through his company, Applied Ballistics, Bryan has teamed up with key players in the world of accuracy and precision. The tools below have been designed to help a shooter in the field gain quick access to the information they need. This can be especially helpful in an area where you do not get reception or cannot use a portable device that requires internet connectivity.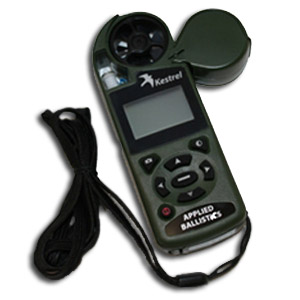 Kestrel with Applied Ballistics Software
Kestrel with Applied Ballistics Software combines the brilliant ballistic mind of Bryan Litz with the already well-known Kestrel Wind Meter. This hand held device is two electronic devices in one: a sophisticated environmental sensing device and an advanced long-range shooting ballistics calculator.
Features:
You can create a gun profile using the Applied Ballistics Online Calculator and download that profile for use in the Kestrel.
The accurate and trusted 'Litz' library of G1 and G7 referenced Ballistic Coefficients (BC's).
Custom drag curve modeling; helpful in engaging targets beyond the supersonic range of the bullet.
Ballistic Calibration (truing) feature allows you to 'train' the solver based on actual bullet impact.
PC Loader software; build firearm profiles on your computer and transfer them via wire or Bluetooth.
Purchase your Kestrel with Applied Ballistics software here.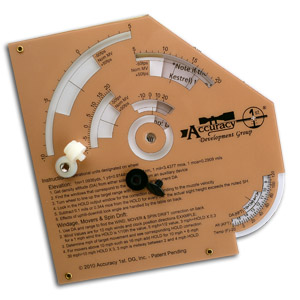 The Whiz Wheel
The Whiz Wheel is an advanced trajectory prediction tool that is both extremely portable and easy to use. Using Bryan Litz's trajectory calculator and Todd Hodnett's rugged design, the Whiz Wheel has become the most advanced and capable device of its type for trajectory prediction.
Long range shooting takes a lot of preparation and relies on many factors for success including your ballistic solution. Many shooters rely on electronics to calculate ballistics, but sometimes electronics fail or the batteries go dead. The Whiz Wheel is a lightweight and rugged non-electronic alternative which you can always count on either as your primary or back-up ballistics tool.
Each Whiz Wheel is custom tailored to specifically match the shooter, their load and their gear. This one of a kind configuration means that you will have the most accurate results that you can find in a ballistic monograph calculator. Customize your weapon's muzzle velocity, scope, height and your very own load to create your ultimate field ballistic tool.
Purchase your Whiz Wheel at accuracy1stdg.com or build one around a specific rifle, bullet and load by using our ballistics calculator.