The Berger Bullets Technical Team recently transitioned from being partially operated by Sinclair International to fully operated by Berger Bullets, so we thought this would be a great opportunity to introduce our new team! Their combined experience in the field is vast, spanning from varmint to large game hunting as well as several types of competitive shooting such as 3-Gun, F-Class and short to long range Benchrest. Each of our Technical Specialists are NRA Certified Reloading Instructors and they have extensive knowledge of everything shooting related from rifle makes and models to reloading equipment and components.
Now that the Tech Team is fully in-house, it allows us to be more active throughout the shooting community. You will see our team out on several public forums engaging shooters by answering questions not only about our products, but about other aspects of reloading and the shooting sports in general. You can also expect to soon see new technical articles in our Tech Talk section as well as Blogs where our experts share their knowledge and experiences.
Below you will find the profiles for our entire Tech Team. They are available Monday through Friday, 8:00am to 4:30pm EST (excluding holidays). You can reach them via email at support@capstonepg.com or phone at 660-460-2802.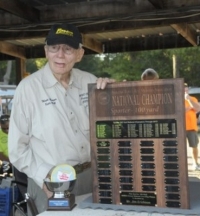 Walt Berger
Founder and Chief Technical Consultant
A legend in the Benchrest shooting community, Walt has been helping shooters with technical questions about Berger bullets since he founded the company. While he now spends most of his time consulting our team and shooting in competitions, he still finds the time to answer the more complicated customer questions that only someone with his vast experience can answer.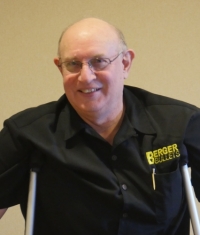 Bob Blaine
Technical Specialist
Bob started reloading with his father when he was just six and a half years old. Before he turned seven, his grandfather had given him his old Winchester Model 270 pump action 22 Long Rifle. When he was a teenager he worked at Lomont Precision Bullets, where he learned about bullet casting and wildcatting. By the time he was in college he had begun to work for the local Winchester Gun Club where he learned to shoot Trap and Skeet. From there, he continued to improve his reloading skills and eventually met Bill Gravatt, who invited him to work for Sinclair.
Bob was soon introduced to the art of shooting Benchrest. He loved it. While working at Sinclair, he got to learn a lot about different types of products. For several years, Sinclair's Tech Team handled the Tech Line calls for Berger Bullets. Bob learned a great deal about Berger Bullets as well as various different reloading equipment and shooting gear during his 20 years at Sinclair. In late 2013 when he was offered a position on the Berger Bullets Tech Team, working directly under Walt Berger, Bob jumped on the opportunity. After all, "how many folks have been in the position to say they have had the privilege of learning from Bill Gravatt, Fred Sinclair, Eric Stecker and Walt Berger."
While the majority of Bob's experience is in short range Benchrest, he has also taken up long range rifle shooting. He believes that different disciplines offer challenges that are unique, and that if one masters the basics of these disciplines, that it will make that person a better all-around shooter in the end.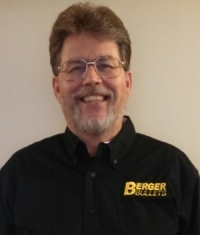 Phil Hoham
Technical Specialist
Phil was taught to shoot at an early age by his father and grandfather. His great grandfather was very active in competitive shooting and the love for the sport was passed down through the generations. Phil was very active in what was known at the time as Action Pistol competitions, and mostly reloaded 45 ACP and 45 Long Colt to feed his action and target pistols.
In 2000, Phil was approached by Bill Gravatt of Sinclair and offered a position to work on their Tech Team. Working for Sinclair was a dream come true, and he learned a lot about precision reloading thanks to the team. Over the years he branched out in competitive shooting and started to shoot long range prone Fullbore and Palma style matches, finding that these competitions truly put his reloading skills to the test. As 3-Gun competitions became more popular, Phil began to gravitate naturally towards this sport since it was so similar to what he initially competing in.
Phil joined the Berger Bullets Tech Team in late 2014. Phil had been answering technical questions about Berger Bullets for years as a member of Sinclair's Tech Team, and when offered the position at Berger, he saw it as a perfect fit. Even with all of his experience competing and working for the Sinclair Tech Team, he strives to learn even more about bullets, reloading and precision shooting.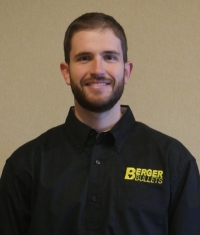 Corey Schwanz
Technical Specialist
Corey has had a passion for shooting since his dad first took him hunting when he was five years old. "I remember squirrel hunting with my first air rifle at the age of six or seven. Santa Claus brought me my first shotgun a few years later. Since then, I've found every excuse possible to get out to the shooting range or hunting fields when I can."
In 2009, Corey joined the Sinclair Tech Team. He already had years of personal hands on experience, but was able to learn so much more while working for Sinclair. Around the same time, he also began competitively shooting in USPSA pistol competitions. As with many competitive pistol shooters, he began to learn about 3-Gun and had to give it a try. He won the Inaugural Pro-AM (Amateur Division) his first year competing and has qualified for the 16-man shoot-off every year for the past three years when competing in the Indiana Multi-Gun Series. He has also dabbled in F-Class and long range competitive shooting.
Corey joined the Berger Bullets Tech Team at the same time as Phil in late 2014. Having worked on Sinclair's Tech Team for years, he had the experience and know how necessary to take on the new position. As a team member of Berger Bullets, he plans to continue to competitively shoot Pistol, Multi-Gun and long range matches.