The 5th annual Southwest Nationals ran from April 21-25th at Ben Avery Shooting Facility in Phoenix, AZ. This match is sponsored by Berger Bullets, and consists of four days of High Power "Across the Course" shooting. We had over 70 shooters from up and down the West Coast.
The match started on Thursday at the 600 yard line. We shot three 20-shot matches at 600 yds. Nancy Tompkins won with an impressive 600-41x. The highest possible score was a 600-60x, meaning she hit the center of the bull's-eye 41 out of 60 shots. Second place went to Phil Hayes with a 599-31x, and third was Peter Church with a 596-36x. There was also a small group of F-Class shooters. Bill Berta was high F-Class with a 596-30x.
The Grand Agg started on Friday with an 80-shot Across the Course match. This course of fire consists of 20 shots Standing at 200 yds, 20 shots Sitting Rapid Fire at 200 yds, 20 shots Prone Rapid Fire at 300 yds, and 20 shots Prone at 600 yds. Justin Skaret won the daily agg with a 789-30x. As we got back to the 600 yd line, we realized that there was a three-way tie for the Sitting Rapid Fire match. So at the end of the day, we went back up to the 200 yd line for a shoot-off between Justin Skaret, Brian Fisher, and James Patterson. Justin won the shoot-off with a score of 99 out of 100. Congratulations to all three of them! Shoot-offs don't happen very often, so people were excited to watch it.
Saturday was a 100-shot match, which is basically the same course of fire with an additional 20 shot match at 600 yds. Allen Spiker won the Sat agg with a 984-31x. A 100-shot match typically lasts the entire day, but we managed to finish by early afternoon, which gave people plenty of time to get to the activities building for our BBQ dinner. The competitors enjoyed making and renewing friendships over pulled pork, ice cold beer and lemonade. After the dinner, we started the prize giving.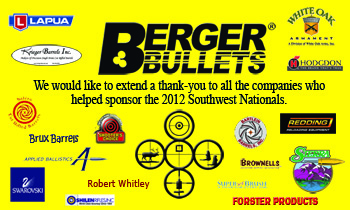 We encourage other companies in the firearms industry to support our matches by sending product to give away to the shooters. Berger provides the awards for the winners of the match, including $500 to both the Match and Service Rifle Champions. We also give away over 20,000 bullets to the match and class winners of the Aggregates. Our goal is to send awards home with as many people as we can, and these donations help make that possible. We also know that most of the top shooters already have top level equipment. So while this is a random prize drawing, we focus the first prizes towards newer shooters who are less likely to have the best equipment.
We want to give a special thank-you to White Oak Armament for their very generous donation of a 22 cal Service Rifle Upper. Robert Whitley also donated a 6mm Match Rifle Upper. Other contributors included Sierra Bullets, Lapua, Krieger, Shilen, Satern and many, many others. We were delighted to have enough prizes this year that every single shooter was able to choose something. When you talk to them, please thank these companies for supporting the shooting sports!
Sunday was the final day of the match. This was a "National Match Course," which means 10 shots Standing (200 yds), 10 shots Sitting Rapid Fire (200 yds), 10 shots Prone Rapid Fire (300 yds), and 20 shots Prone (600 yds), WITHOUT sighters. We ran a concurrent "Leg Match," which follows this course of fire. Shooters compete in leg matches and win points for placing in the top positions. The points accumulate until the shooter "legs out," receiving their Distinguished Rifleman's Badge. Shooters were able to fire once, and apply their scores to one or both matches. Shooting without sighters adds an extra challenge because competitors must know their windage and elevation zeroes to keep from losing points at the beginning of each string. Justin Skaret rose to the top again on Sunday, with a 494-15x. Tanner Fadely, a Junior shooter from AZ, won the leg match. He is already Distinguished, so the Leg points went to Jaden Swartwood (another AZ junior) and Bronson Scott.
The Grand Aggregate winners were determined by combining the scores from Friday, Saturday and Sunday. For the first time in the history of this match, a Service Rifle won the overall Grand Agg. Justin Skaret won the Service Rifle Championship, with the highest score overall. Phil Hayes (the 2011 overall winner) won the Match Rifle Championship. Visit our website for a complete list of the results. We want to thank the Desert Sharpshooters rifle club for hosting our match, and putting the time and effort to run the match and build targets. We couldn't run this match without you! Also, thank you to the other companies and individuals who help make this match a success. Finally, a very big THANK-YOU to the shooters for traveling to Phoenix to support our match! We hope to see you again next year!
The tentative dates for the 2013 Southwest Nationals are April 11-14th.
2012 SW National Champions:
Service Rifle:
1st – Justin Skaret
2nd – Walter Tang
3rd – Liana Hoover
Match Rifle
1st – Phil Hayes
2nd – Allen Spiker
3rd – Trenton Hering