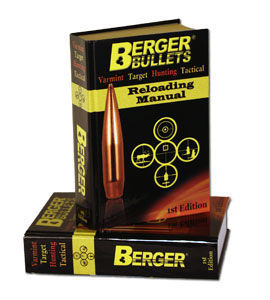 (Note: This post is from 2012 and is in reference to the 1st edition reloading manual.)
It is with great pride and pleasure that I announce the completion of the Berger Bullets Reloading Manual. This 829 page manual has become real and will be available to the public in the next few months. Our team worked very hard to create a thorough manual which gives the shooter everything they come to expect from a reloading manual, along with several extra items we hope the shooters will find interesting and useful.
One of these additional features is The Story of Walt Berger. Walt was born at the end of the Golden Twenties and the beginning of the Great Depression. His story is about overcoming great odds and seeing things through to success when almost everyone around him was convinced he would fail.
There are technical articles on subjects such as Powder – Lot to Lot Variation Discussed. Noted Editor John Barsness tackles this subject with skill and experience. He provides the shooter with a much greater understanding of why loading manuals do not list the same loads from manual to manual, yet are more consistent than shooters might think.
Other technical sections written by Ballistician Bryan Litz discuss G1 vs. G7 Ballistic Coefficients, Form Factor: A Useful Analysis Tool and The Effects of Cartridge Overall Length (COAL) and Cartridge Base to Ogive (CBTO) will expand the shooter's understanding of these subjects and how they can be used to improve the shooting experience.
There is also a section for the new rifle shooter, which describes ten different ways that a rifle can be used to enjoy the shooting sports. Each section is written by an expert in their discipline. These include a section on Short Range Benchrest by Walt Berger, High Power – Across the Course by Sherri Jo Gallagher, Palma, Long Range & Fullbore by Nancy Tompkins and Precision Hunting by John Burns. Each one is meant to give the shooter a taste of these activities so that they can consider exploring them further.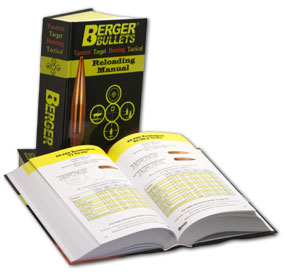 There are several other sections that are included to provide the shooter with an expanded knowledge of the shooting sports. This includes everything from Handloading Basics for the new and novice shooter to an article on Basic Statistics for Handloading for the more advanced shooter who is looking to raise their ability to understand their results and influence them effectively.
At the end of the day, this is a reloading manual. We spent a considerable amount of time putting together loads for seventy-one different cartridges. The majority of powders used to develop the loads for each cartridge were selected due to the fact that they result in 90% or higher fill ratio. It is generally believed that powders which have a fill ratio over 90% will perform best in a given case, since the powder will not be moving around as much in the case.
One of the reasons it took so long to complete this manual is because we wanted to include as much good information as we could provide. It is my opinion that we have succeeded in this effort and I am proud that we are ready to provide a quality loading manual which will help rifle shooters at all levels.
We are accepting pre-orders on these manuals, and will begin shipping in Oct. The first 3,000 manuals will be signed by Walt Berger, Eric Stecker, Bryan Litz and Michelle Gallagher. To place your order, call 714-441-7200 or visit our shopping cart HERE. The retail price is $29.
Eric Stecker