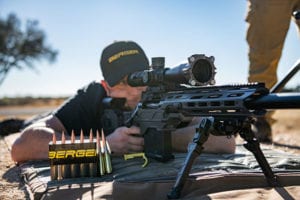 Berger Bullets announces its new .375 caliber ELR Match Solid Bullet has been selected for the Extreme Sniper Strike Operations (ESSO) program (phase 2). The ESSO program is a US government project to develop a high performance, extreme long-range sniper weapon system built on a bolt-action, magazine fed platform.
The new EnABELR (Engineered by Applied Ballistics for Extreme Long Range) cartridge is being loaded with Berger
ELR Match Solid Bullets to drive the state of the art ESSO weapon system. The EnABELR is designed to reliably engage targets at distance 2500 meters.
Bryan Litz, Berger's Chief Ballistician said: "The .375 caliber Berger ELR Match Solid Bullets were optimized for use in the ESSO project, which requires high performance and reliability over many rounds in adverse conditions. In addition to meeting the needs of our US military, the Berger Match Solids provide proven, match winning performance for the ELR competition shooter as well."