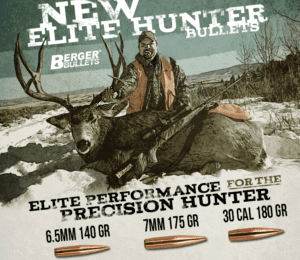 We're excited to announce (3) new bullets we've added to our successful Elite Hunter Series! The Elite Hunter Bullets provide serious reloaders and outdoor enthusiasts with the highest ballistic performance on today's market. These unequaled bullets share the same hybrid profile as our award-winning, Hybrid Target bullets which were used by 2016 U.S. F-Class Nationals competitors who swept in all classifications. This Berger-pioneered design combines the best of tangent and secant ogive features, resulting in unmatched downrange performance with less sensitivity to seating depth.
Elite Hunters are not limited to SAAMI standards. The much longer bullet nose produces ballistic coefficients (BC's) that rival all competitors' match-quality target bullets! The Elite Hunter bullets are ideal for use with extended magazine rifles or single-feed performance applications.
Berger Bullets President Eric Stecker states, "Our customers first inspired us to marry our industry-leading hybrid target design with a long-range hunting bullet. Their demands for a game-changing product that is easy to load and shoot, drops an animal in its tracks and has no ballistic equal were answered when we first introduced our Elite Hunter. Today, we've added three new hybrid Elite Hunter offerings, now the most emulated bullet design in the industry for both hunting and target applications, exemplifying its success."
New Elite Hunter Series offerings are as follows; 6.5mm 140gr, 7mm 175gr, and 30 cal 180gr. Available now through your favorite Berger Bullets retail outlet.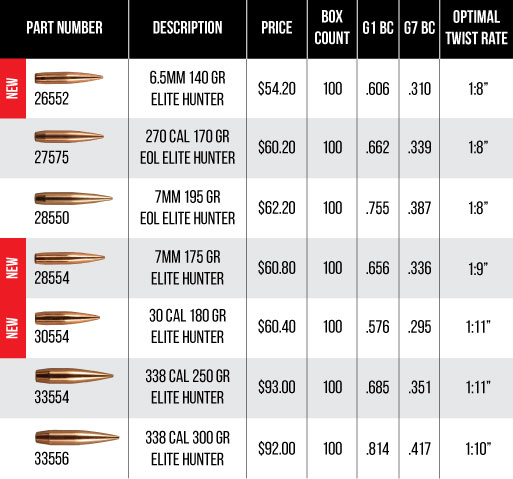 Our Berger technical staff has compiled and tested new loading data to assist with loading your favorite Elite Hunter Bullets for that next hunt of a lifetime. Begin loading your new Berger Elite Hunter Bullets with today's most popular powders HERE.
As always, our Berger technical staff is available to service all your reloading, shooting and Berger Bullets needs. Feel free to contact us at 660-460-2802 or email support@capstonepg.com.