For privacy reasons YouTube needs your permission to be loaded. For more details, please see our
Privacy Policy
.
Watch Troy's 5×5 Bull Elk drop at 8:05 on this YouTube video.   (Warning parents, explicit language used!)
Troy Bennett is an active member of the 10th Special Forces Group (Airborne) for the United States Army and an avid hunter in his free time. This last hunting season, after coming back from deployment, he only had a short amount of time to get ready for his upcoming DIY Colorado Elk 4th Season rifle hunt. He turned to Applied Ballistics Munitions due to their reputation for being the highest quality ammunition available in the market. ABM ammo is loaded with premium Berger bullets, which allows him to take full advantage of his custom rifle's performance.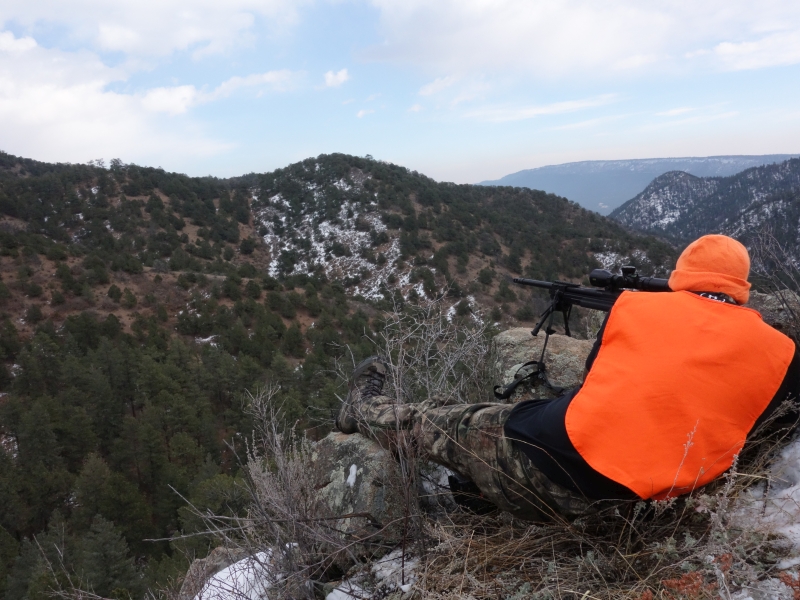 Being an avid bow hunter, he had never done much scouting during the late season, which made selecting his hunting area much more difficult. After doing extensive research using satellite images of the areas surrounding his hunting spot, he was confident that he had found a good wintering area that should hold a few bulls.
In the early morning, Troy headed out with his friend Lance to hike four miles to the area he had selected to start glassing. They arrived at his planned spot and waited less than an hour before Lance had spotted 3 bulls feeding about a mile away. Once the bulls moved out of sight to bed, Troy and Lance made their way towards them.
As they glassed the bowl looking for the bedded bulls, they heard a crash and knew that they had been spotted. The bulls ran up the opposite mountain and made the mistake of pausing and giving Troy a chance at a good broadside shot. Troy measured the target at 500 yards and took his shot. In the video above you can see the instant effect that the bullet has on the bull, bang-flop!  Loaded with Berger 30 cal 230gr Hybrid Target bullets, they achieve a level of accuracy and performance that is second to none.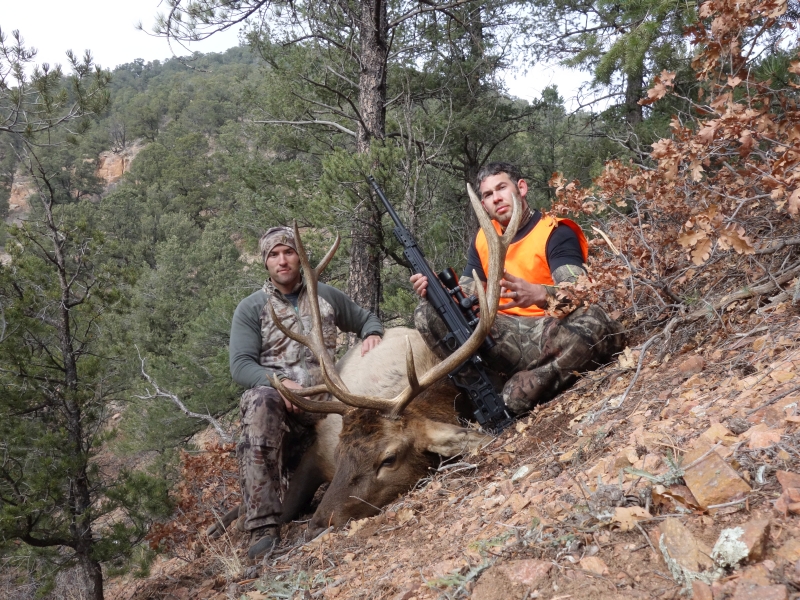 This 5×5 bull dropped right in its tracks requiring no extra recovery tracking. Watch the full video above to see them tracking and then taking their harvest. "I was extremely pleased with the performance of ABM Ammo and the 30 cal 230gr Berger Bullet. I was able to make a one shot, ethical kill. Which should be the number one goal for every hunter."
Troy was using a custom made Badger Ordnance M2013 Long Action rifle chambered to a 300 win mag with a Bartlein 20 inch heavy contour 1:9″ twist barrel, Calvin Elite Timney trigger, Surefire muzzle break, Kenetic Research Group folding Whiskey 3 chassis and a Bushnell Elite Tactical 3.5-21x50mm scope with a Tremor 2 reticle. He shot Applied Ballistics Munitions' 300 Win Mag 230gr Match Hybrid Target ammunition loaded with 30 cal 230gr Hybrid Target bullets.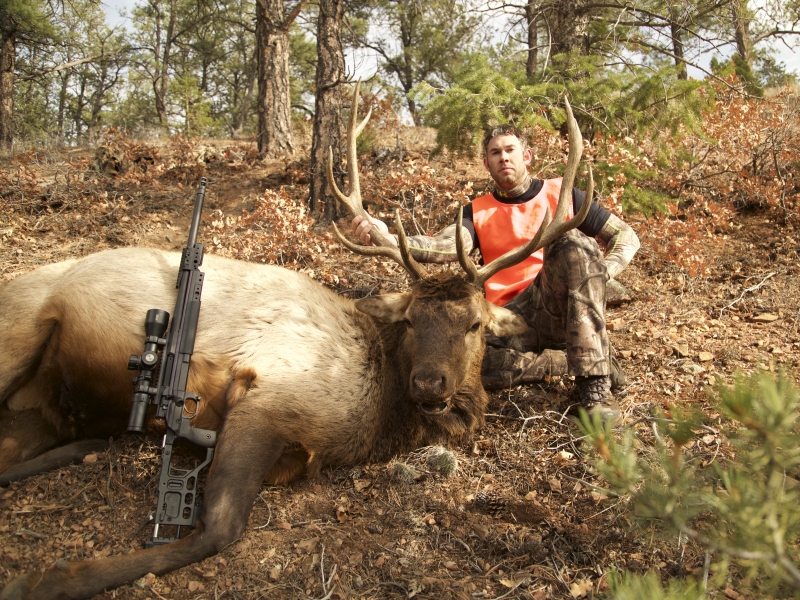 Please note: Although effectively lethal, Berger Target bullets produce a more narrow wound channel than Berger Hunting bullets, making shot placement more critical.