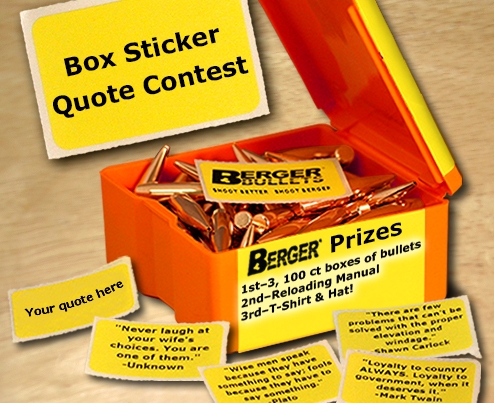 Recently, AccurateShooter.com highlighted our box stickers in one of their articles (found here). We were excited to hear how much shooters have been enjoying our little "golden tickets." We like to surprise our shooters by leaving something fun inside of a box (besides great bullets) from time to time. We randomly place quotes into our boxes, and if you get lucky enough, you might even find a coupon for a hat, t-shirt, or even free bullets!
To celebrate the fact that our shooters have responded so well to our box sticker "fortune cookies," we wanted to extend to you a chance to submit your favorite quote. Go to our Facebook page and find our "Box Sticker Quote Contest" post and follow the directions to submit your favorite quote for a chance to win free Berger bullets and other great prizes!
Good luck! We look forward to reading your favorite quotes!
————————————————————————————————————————————————————————————-
How to Enter:
Like our "Box Sticker Quote Contest" post on Facebook.
Comment directly on our "Box Sticker Quote Contest" post on Facebook with a quote you came up with yourself or one that is your all time favorite.
**Our VP, Eric Stecker (who chooses all of the box sticker quotes) will choose three winners!**
Berger Prizes:
1st Place – 3, 100 ct boxes of bullets of your choice (if out of stock, a free backorder will be placed).
2nd Place – Berger Bullets Reloading Manual.
3rd Place – Berger Bullets T-Shirt & Hat (your choice of size and color).
Official Rules:
Only one submission per person. If more than one quote is submitted, only the first quote posted will be considered.
Inappropriate quotes of any kind will be immediately deleted and disqualified.
Posting a comment that is originally written by you gives us consent to reuse the quote in any manner that we see fit.
Submissions begin now through 11/30/13 at 11:59 p.m. PST.
Winners will be chosen and announced by 12/13/13.