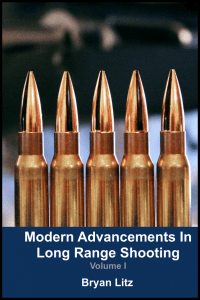 I've recently finished a new book titled: "Modern Advancements in Long Range Shooting". This is actually the first book in a series which is planned to document the ongoing R&D taking place in my ballistic testing laboratory. The series covers specific tests and projects designed to answer the important questions being asked by modern long range shooters.
In the first volume, we take a close look at twist rate effects and stability. Ever wonder how much twist rate affects your muzzle velocity? How much stability affects BC from the muzzle and far down range? How do you measure spin rate decay, and which rifling profiles are the best? Is precision (grouping) affected by twist rate and how much? In the Modern Advancements series, these questions are not only addressed in an academic way, but the ballistics are actually tested in controlled experiments designed to demonstrate whatever principal is being investigated. It's a lot like the mythbusters approach where we ask a question, research it, then turn to live fire to find out the real answers.
Live fire testing in the Applied Ballistics Laboratory is a big part of the book series, but that's not all there is to it. There are several chapters covering the design of modern long range rifles, optics, and bullets which discuss the positive attributes of the available modern equipment. There's so much marketing hype surrounding everything that it can be difficult to sort out what really makes a difference and what doesn't. The chapter on modern commercial chronographs answers a lot of questions about the nature and importance of accurate and precise velocity measurement, and which chronographs are the best, why, and what to avoid.
Contributing author Nick Vitalbo discusses cutting edge technology such as the proper use and capabilities of laser rangefinders, optical wind reading devices, and ballistic computers. Nick was formally an engineer at Lockheed Martin and project manager of the One Shot program. He is now the principal engineer on many of Applied Ballistics software integration and other technologies and software.
Basically if you're interested in the science behind long range shooting and understanding ballistics at a fundamental level, this series is for you.
Bryan Litz
Chief Ballistician, Berger Bullets
Owner, Applied Ballistics