My 8,000 Foot Wyoming Black Bear
By Len Backus of LongRangeHunting.com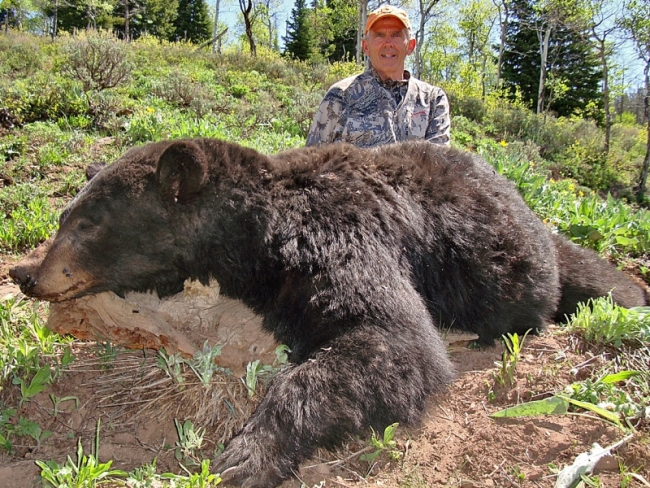 As soon as the big boar turned slightly to his right the 180 grain Berger bullet was on its way along the 574 yard arcing route across the steep canyon. Hit hard, the bear buckled, spun, and then sprinted downhill about 50 yards toward us and then to its left, finally collapsing on the ground.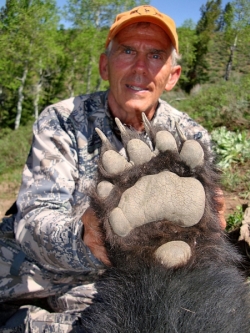 Through my 25 power Nightforce ATACR rifle scope I watched his head move ever so slightly waiting to see if he'd need a second shot. Soon there was no movement and it was time for high fives. I had just taken a beautiful six and a half foot black bear at 8,000 feet in the Wyoming mountains!
Here I was during spring just below the rapidly receding snow line having lived a dream. Several years ago I had realized that spot and stalk black bear hunting in the western mountains during the early June "rut" season may be the perfect perennial addition to my annual calendar. I drive from my home in Wisconsin to the western mountain states about 10 times per year. In recent years each fall I have been hunting antelope, mule deer and elk. It is always a long wait from the end of my last big game hunt in late fall until the first such hunt 9 months later. In between big game hunting season years, my numerous western trips focus on meeting up with western friends for coyote hunting, shooting, scouting or just solo hiking in some of the best outdoor photographic areas of the country.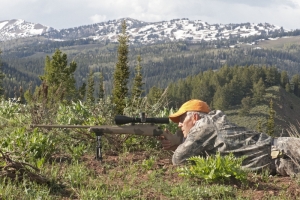 My hope now was that I would like my first spring bear hunt and plan to repeat it often in future years. Well, the whole experience was a bases-loaded home run. This trip met all my expectations and I plan on repeating it during early June for at least the next few years.
A couple times in recent years I had headed west on solo DIY attempts to begin black bear hunting. With location advice from western friends I tried a couple spots in Montana. To make that long story short, my first trips featured a few obstacles like blocked forest service road access and an untimely early June snow storm. I saw one bear, a nice sized one, a mile away and moving toward private land.
At the end of that particular hunt the realization of what a bear kill would actually mean in logistics for a solo hunter on foot in the mountains started sinking in. Where I was hunting in the state of Montana I would be required to haul out hide, head and all meat. My body is doing much better than most at my age but it started sounding like maybe it wasn't such a smart idea after all to do it unguided as a solo hunter.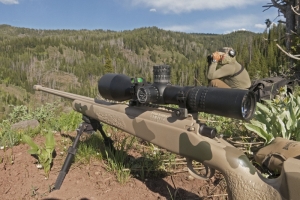 "I get asked often for gear advice."
Len's Gear On This Hunt:
Right about then Robb Wiley of Non-Typical Outfitters emailed me some pictures of really big color-phase bears his clients had just killed during the 2013 spring season. Wow, they looked great! I was already committed with him for a LRH Group Hunt for deer and another for elk. I had done my due diligence and knew he ran a top notch operation.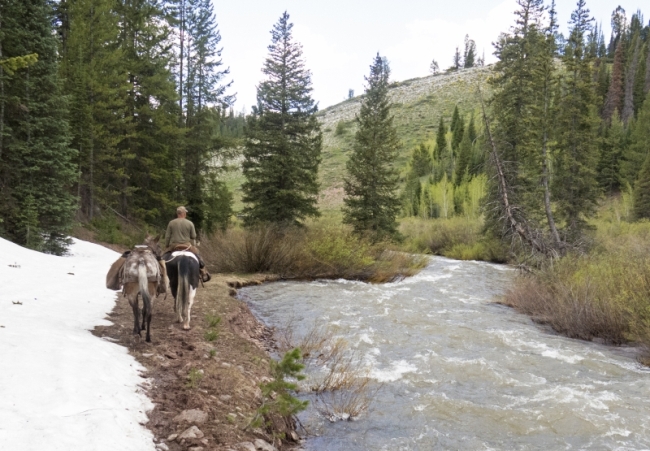 Suddenly the whole spot and stalk black bear logistics issue for me became quite simplified in my mind. I would organize a LRH Group Hunt for the next year — 2014. I love DIY hunts but had been realizing what a challenge it would actually be to find my own bear and then haul it all out from the mountains. Plus I have been enjoying the comradery of the group aspect of last years' two LRH Group Hunts – one for deer and one for elk. Robb's hunts involve horses and mules and are based right in the mountains working out of tent camps.
Our camp last week was in a beautiful valley with the tents pitched about 10 feet from a rushing stream and with mountains in the background.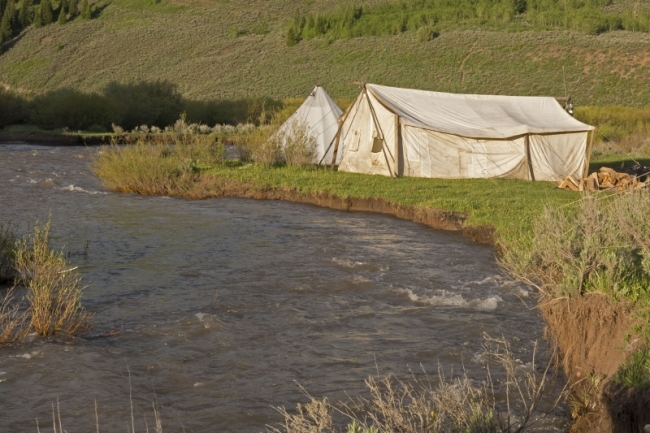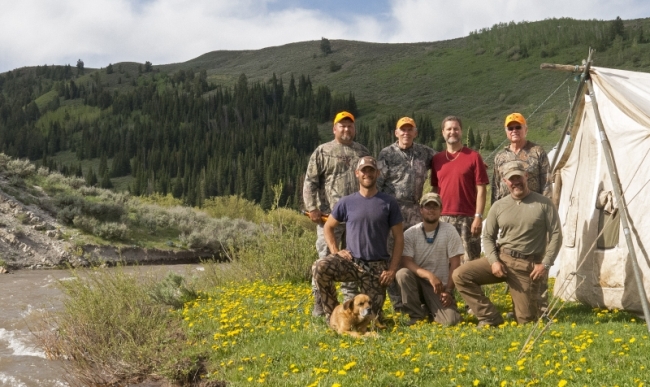 Visit our success stories page to read about more successes shooters have had with our bullets. We'd love to tell your story! Click here to become a part of our success story program!
About the Author:
Len Backus is a long range hunting enthusiast. He founded the LongRangeHunting.com forums to give long range hunters a place to share their stories and knowledge with other long range shooting enthusiasts. Find out more about Len Backus and Long Range Hunting Online Magazine at LongRangeHunting.com.